About Ginny's Custom Embroidery
You can expect the best at Ginny's Custom Embroidery.
GCE is a family owned and operated business. We were established in October of 2007 and have enjoyed continual growth in our surrounding counties. We are excited to announce that GCE is the 2011 Walton County's Business Of The Year! In addition, Ginny's Custom Embroidery has received business of the month Oct 09' and Dec 11'. At GCE it is very important to support and give back to our community. We support local businesses and work toward bettering our community as a whole. We are members of the Walton County Chamber of Commerce, Kiwanis Club of Monroe, and Leadership Walton 2010. We are always excited to assist in supporting local events and fundraisers as well as speaking on career days and educational training events.
At GCE our intent is to build longstanding professional and personal relationships with our clients.

Our Passion is with Client Success!

Over 800,000 Promotional Products

Delivered Results to Thousands of Happy Clients

Millions of Stitches Sewn
Business experience:  
Ran a restaurant from ages 3-7.  Had a post office at age 4, I think I ran a drive through McD's at age 5.  I'm sure I owned a few fashion boutiques as well before the age of 10, all located in my playroom.  Point being, I've been running the show since I got here.  On a serious note, I have been in the embroidery industry for 13 years and GCE has been in business for 11 years in October  2018.
What makes your business unique? 
Lime Green and Hot Pink!  GCE has a fresh approach to the embroidery, screen printing and ad specialty industry.  Our Mission is to provide quality merchandise in an efficient time frame, to listen and to meet our customer's needs, and to build lasting professional and personal relationships.  Above all, our mission is to in all things glorify God. "Proverbs 3:5-6   Trust in the LORD with all your heart and lean not on your own understanding;   in all your ways acknowledge him, and he will make your paths straight."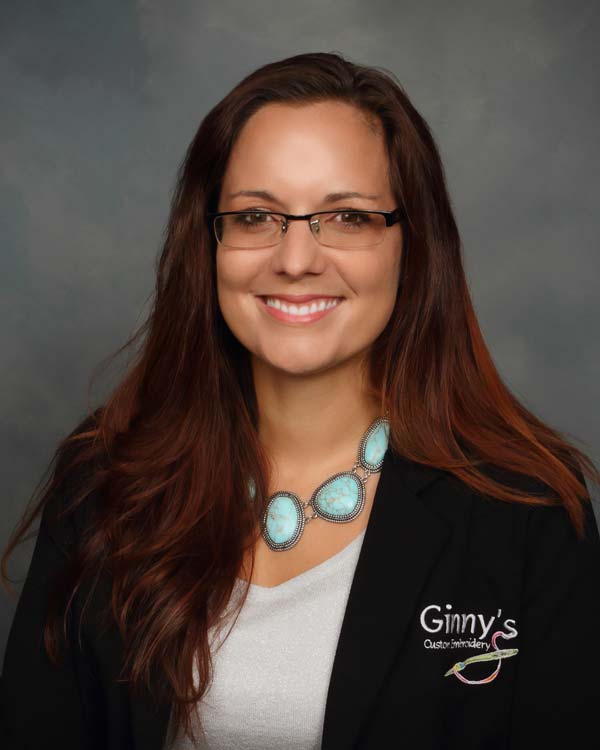 What unique challenges have you faced with your business because you are a woman if any?
Wow, I don't believe it matters whether you are male/female, short/tall, square/round or any other description, running your own business has many challenges!  I think the key is to find something you are passionate about and love to do, and then the challenges are just bumps in the road on an amazing journey.  If you line up with the will of God it will all fall into place.
Where do you see your business 
in 10 years
?  
One of my favorite clichés is "If you want to make God laugh, tell him your plans"; I keep Him in stitches (pun intended).  I'm truly excited to see where the Lord wants to take GCE in the next 10 years.  He has blown my mind as the success he has brought the business in the first three.  We have exceeded our business goals every year and at this point, our business plan is so surpassed it's pointless to even look at it.  Of course, growth is what I would like to
You can expect the best at Ginny's Custom Embroidery.
• Honesty and Integrity
• Competitive Pricing
• Strategic Marketing Plan
• Efficient Turn-Around
• Quality Products and Service
• Outstanding Customer Service
At GCE our intent is to build longstanding professional and personal relationships with our clients.